Lake Baikal - the big freshwater sea
in the heart of Central Asia

Impressions from a visit to Siberia in autumn, 2006


Text and photos: Erik Pontoppidan, Copenhagen, Denmark
Copyright: Erik Pontoppidan


For Danish version of this page, please click HERE!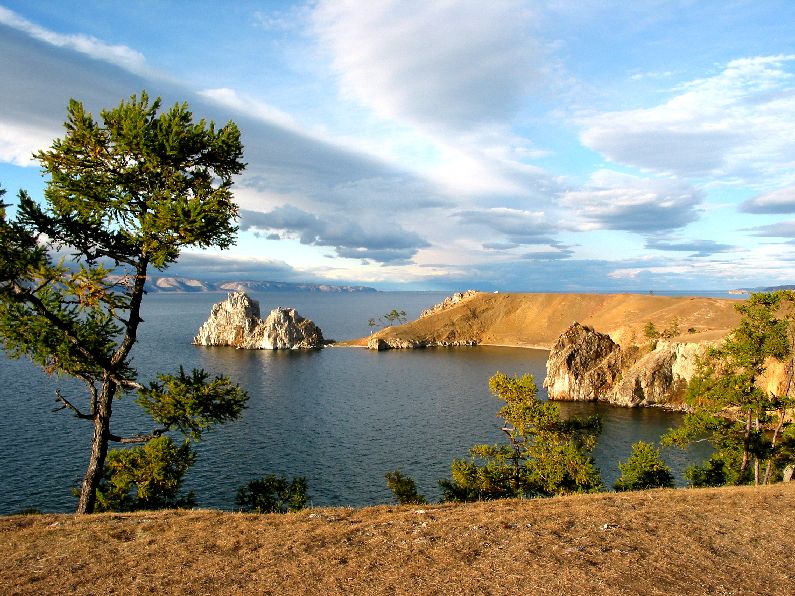 View towards NW from Huschir village on Olkhon Island in Lake Baikal




You find Lake Baikal in the heart of Central Asia. The water line is 456 meters above sea level, and it's the deepest lake in the world (1.637 meters). With its length of 636 kilometers, the banana-shaped lake has a coastline of about 2.000 kilometers and a surface bigger than Belgium. 1/5 of the world's freshwater is located here. And to keep to the extremes, it's also the world's oldest lake. The geologists assume, that Lake Baikal was created about 30 million years ago.



We stayed 3 wonderful days at a small guest-house in Huschir village on Olkhon Island in the south-western part of the lake. The surroundings were very special and beautiful, and neither the village nor the landscape looked like anything I had seen before. A possible comparison might be a mixture between an old gold digger town from the Klondyke period and an eskimo society in Alaska. However, the village seemed to work quite well, with a couple of general stores, a small library and a small harbour with fishing boats. One of the remarkable features seemed to be a serious lack of skilled carpenters! Several of the houses looked like something constructed at a timber playgrund for children in a school or a kindergarden.



1: Our first encounter with Lake Baikal after about 7 hours' bus-ride from Irkutsk.
2: The final transport to Olkhon Island is on a small ferry, and the crossing time is about 15 minutes. On this photo, the first view of the open freshwater sea is revealed.
3-4: Views of Lake Baikal from different places in Olkhon Island.



1-4: From Huschir village on Olkhon Island - a strange and beatiful place.



1-3: From Huschir village on Olkhon Island. The colored scarfs on photo nr. 3 derive from a shaman religion found several places in Central Asia. Their purpose is to keep evil spirits away.
4: Mountains at the western bank of Lake Baikal, seen from Olkhon Island.

This was a very beautiful area, and it's fantastic that here, in the heart of Central Asia, you find a freshwater lake comparable to a sea. The air temperature during the daytime was about 20 centigrades at the time of our visit (in September), but in winter, it drops to about minus 50 centigrades, giving the lake an ice layer of about 2 1/2 meters!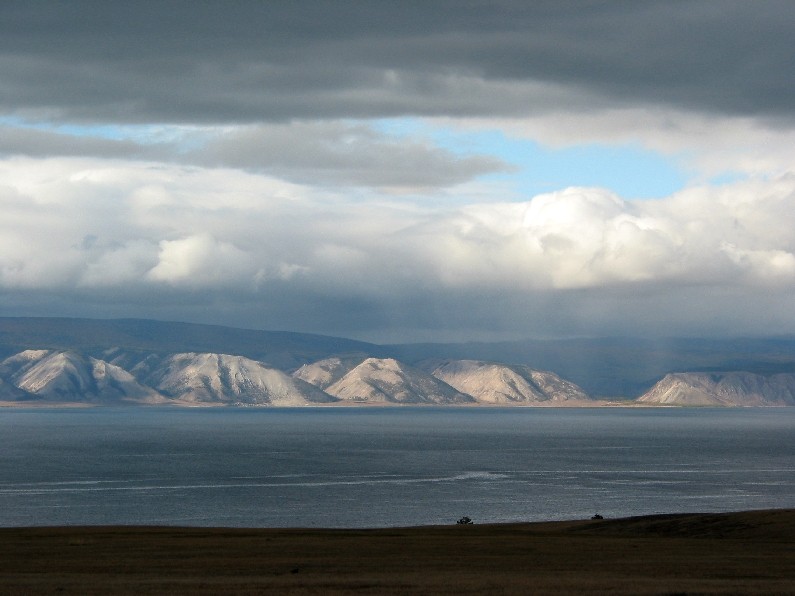 White mountains in the afternoon sun at the western bank of Lake Baikal, seen from Olkhon Island
Click HERE to visit the main entrance to the English version of my website, with plenty of illustrated articles about travelling and trekking.