Chez Fatou et Saladin
Practical info about our new Bed and Breakfast-lodge in Casamance, southern Senegal

Text and photos: Erik Pontoppidan, Denmark
Copyright: Erik Pontoppidan

Click or push HERE to read this article in Danish.
Click or push HERE to read about my experience as a new settler in Senegal.
Click or pushHERE to check out some of my favourite photos from Casamance in southern Senegal.

On this website, you can find practical information about our new Bed and Breakfast-lodge "Chez Fatou et Saladin" in Casamance in southern Senegal. About transport to our place, about our location, about opportunities for experiences and excursions, about travel guides, etc. It's probably only a small part of the knowledge you need, but don't hesitate to write me if you have any questions. My email address is pontoppidan214@gmail.com .

If everything works out as planned, "Chez Fatou et Saladin" will open in December 2022. It will be a small Bed & Breakfast place with three double rooms with private bath and toilet and with an attached restaurant. Our place is located "in the countryside" in quiet surroundings with beautiful nature and a rich bird life, a few kilometers from the village Abene and 400 meters from the Atlantic Ocean with a fantastic beach, where you have a bigger chance of meeting a cow than a tourist.
So far, there are very few tourists around Abene, but the area has an enormous potential for tourism. There are no sealed roads for kilometers around, and the existing accommodation has a standard not suitable for mainstream tourism. For the same reason, you won't experience the usual hustling you find at larger tourist spots at e.g. the beach hotels in Gambia. There are no "attractions" or "sights" in the normal sense, but it's a perfect place to relax, find yourself or have a chat with the locals in the village or with the fishermen at the beach. Check out this quote from Bradt's Travel Guide to Senegal about the village Abene:

"Life here moves unhurriedly for most of the year (a trend in Casamanche), and if you're looking for a place to slow down, collect your thoughts and perhaps even write that novel you've always meant to, Abene wouldn't be a bad choice".

My wife Fatoumata Binta Manga is an educated cook, and she makes excellent food. There is free access to the internet. Apart from gas in the kitchen, we run exclusively on solar energy, with solar panels and batteries.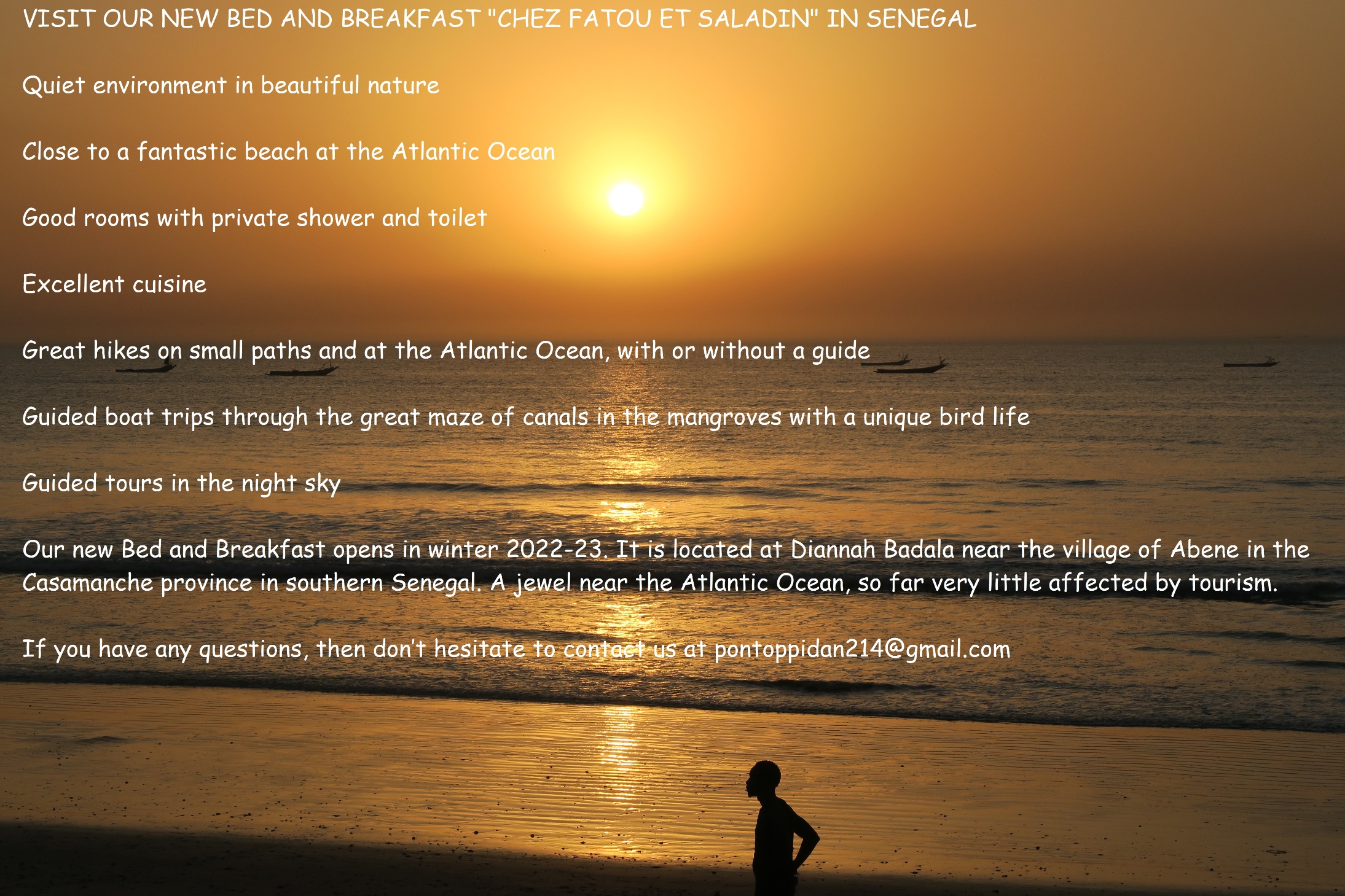 In March 2021, we bought a plot of land in Diannah Badala near the village of Abene in the Casamance province of southern Senegal, where we are building a small Bed and Breakfast lodge with an attached restaurant and bar. The name of our place is "Chez Fatou et Saladin". My wife is Muslim, and if you marry a Muslim girl in Senegal, you must have a Muslim name. So Saladin is me! I have chosen the name myself.
Our place will open in December 2022. Inshallah.

Language and religion in Senegal
Senegal is a former French colony, and the official language is French, which is spoken by the majority. In addition, there are many different local languages, which are spoken by the locals. Wolof and Diola are the most common local languages.
The majority in Senegal are Muslims, but it is a very relaxed version of Islam. The women are seen everywhere in the streets, and they do not wear scarves. In Abene, 80 percent of the residents are Muslims and 20 percent are Christians. There is also a very relaxed relationship to alcohol. Beer, wine and spirits are served in the local restaurants and can be bought at the local grocery store in the neighboring town Kafountine. Here, you can e.g. buy a whole liter of the local French aperitif Pastis for less than 4 euros.

Climate
The best time for a visit to "Chez Fatou et Saladin" is during the winter in northern Europe, e.g. from November to February. In this period there is no rain, and the temperature is pleasant, typically between 20 and 30 centigrades.

Transport to our place from Europe
The most convenient option is to fly to Banjul in Gambia and continue to our place in Senegal with taxi. The border between Gambia and Senegal closes at sunset, so if you land in Banjul in the evening, it's necessary to spend the first night in Gambia. There is an good hotel (Hotel Woodpecker) a few kilometers from the airport. If you stay overnight there and have booked the accommodation in advance, the hotel will pick you up at the airport free of charge.
A taxi from Hotel Woodpecker to our place costs approximately 60 euros (for the entire car), and the journey takes approximately two hours. You may call the reliable taxi driver Oumar (mobile: 0221-775103374).
Citizens from many European countries will automatically obtain a tourist visa on arrival for 28 days in Gambia and 90 days in Senegal.
You may also buy a flight ticket to Senegal's capital Dakar. From here, you may either continue by air from Dakar to Banjul in Gambia (about 30 minutes), by local flight to Ziguinchor (45 minutes) or (more exotic) by boat from Dakar to Ziguinchor. This boat departs on several days a week from the port in the center of Dakar. The transport takes approximately 15 hours, and the last three hours you are on the Casamanche River, which is surrounded by extensive mangrove forests with a rich bird life.
Ziguinchor is app. 110 kilometers south of our place, most conveniently reached by a private taxi from Ziguinchor or (much cheaper) by a shared, public taxi. Count on about 70 euros (for the whole car) for a private taxi (about 2 hours), including a direct transport to our place.
It should be mentioned, that Dakar's international airport is 40 kilometers from the center of Dakar. Tickets for the scheduled boat (cabins or seats, but cabins are hard to obtain) can be booked at the port of Dakar.
NB: P.t. (November 2022), the airport in Ziguinchor is closed due to renovation, so instead, the flights from Dakar go to Cap Skiring, which is approximately 70 km from Ziguinchor. It's unknown when the airport in Ziguinchor will reopen.
The most common way to book flight tickets is by using www.momondo.com. There is a big difference in prices, and it is a good idea to try different dates. In general, it is cheapest, if you book your ticket a long time in advance. It's recommended that you buy the tickets directly through the airline you are traveling with.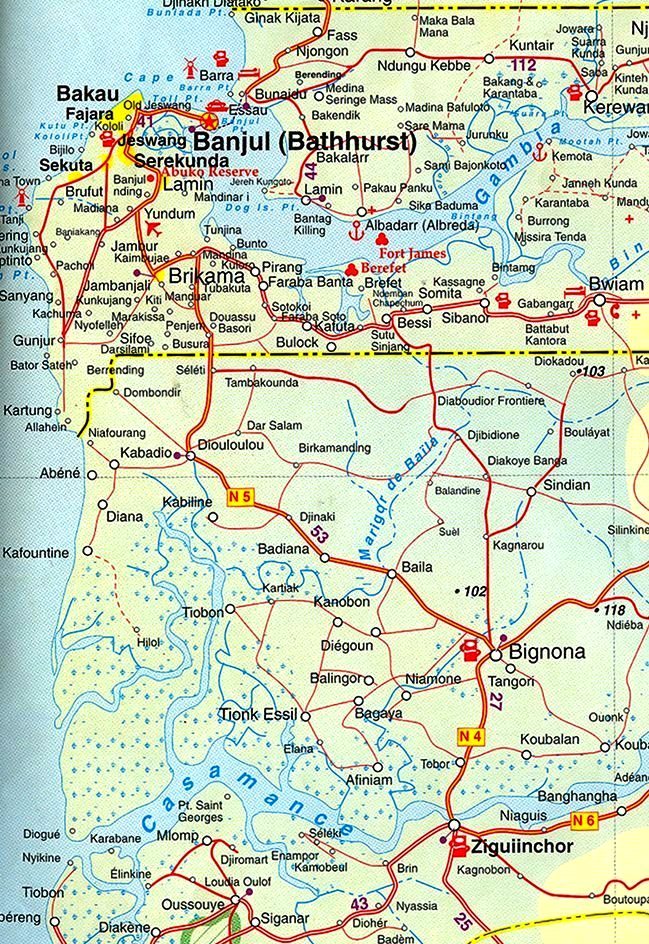 Map of the Casamance-province in southern Senegal. The village Abene is placed at the Atlantic Ocean to the left from the middle of the map.

Corona
Hopefully, all Corona restrictions on entry to Gambia and Senegal are finished, but check out the local Corona situation just in case.


During your stay at "Chez Fatou et Saladin":

Of course, it's your own choice what you want to do during your stay, but I have some suggestions. There are no "attractions" or "sights" in the normal sense, but as previously mentioned, our place is very scenic, 400 meters from a fantastic beach, where you have a bigger chance to meet a cow than a tourist. There are plenty of options for short and long walks, e.g. along the beach to the larger town Kafountine (seven kilometers and return by taxi), or to the small lodge "Diannah Bolong", which can be reached after half an hour's walk along small sandy paths. Here you can enjoy a drink (a cold beer, a Gin & Tonic, coffee, etc.) and return along the beach in about 45 minutes. And half an hour's walk from our place there is a small lake with big crocodiles!

Click or push on the pohtos below for bigger size and more info.


Proposed excursions:

All the excursions mentioned below can be done with or without a guide. If you make the trips individually, we are happy to help you to book a taxi and accommodation.

Boat trip in the mangrove forests south of Kafountine (full day trip)
We take a taxi from our place to the maze of canals in the mangrove forests south of the town Kafountine with their beautiful nature and unique birdlife. After arrival, we board a pirogue boat and move into the mangrove forests through the maze of canals. During the trip, we enter an island in the swamps, where there is a Christian church and where illegal marihuana is grown. The local police know all about the illegal hash fields, but so far, no serious attempts have been made to stop the illegal cultivation!

Excursion to Ziguinchor (multi-day trip)
Ziguinchor is a major city located at the Casamanche River. The center of the city has an exotic folk life with large markets and lots of interesting shops. We can arrange a multi-day excursion of two or three days with an overnight stay at our favorite hotel Perroquet, located on the banks of the Casamance River. The hotel serves good food, which you can eat in the outdoor restaurant with a river view. From here, we can make a few-hour pirogue boat trip into the maze of canals in the mangrove forests and visit some of the remote fishing villages only accessible by boat. And if you're interested, we can visit the idyllic fishing village of Pointe Saint Georges, possibly with an overnight stay there. Pointe Saint Georges can be reached with a 2 and a half hour pirogue boat ride from hotel Perroquet. I have written an illustrated article about Pointe Saint Georges (in Danish) at http://www.ponty.dk/pointe-saint -georges-2022.htm.

Currency and money
The local currency in Senegal is Cefa (CFA). The nearest ATM from "Chez Fatou et Saladin" is in Bignona, which can be reached in about an hour by car. So bring plenty of euros in cash. They can be exchanged everywhere.

Travel guides about Senegal
The best travel guide about Senegal is the latest edition of Bradt Travel Guide Senegal. Very informative about everything.

Vaccinations / medicine
Vaccination against cholera is required when entering Senegal, but personally, I have never been asked for documentation of this. But bring your personal vaccination card if you have one.

Malaria
As protection against malaria, I personally use Vibradox (Doxycycline), which can be purchased with a prescription at pharmacies. One tablet daily the day before departure, during your stay and one week after returning home. They are not expensive unlike the very expensive Malarone. Personally, I have never been infected with Malaria during my stay in Senegal.

This was some of the most important information, but don't hestiate to write me, if you have any questions. My email address is pontoppidan214@gmail.com .


I met my wife Fatou in Abene in February 2019, and we got married on Christmas Eve 2020 in Ziguinchor.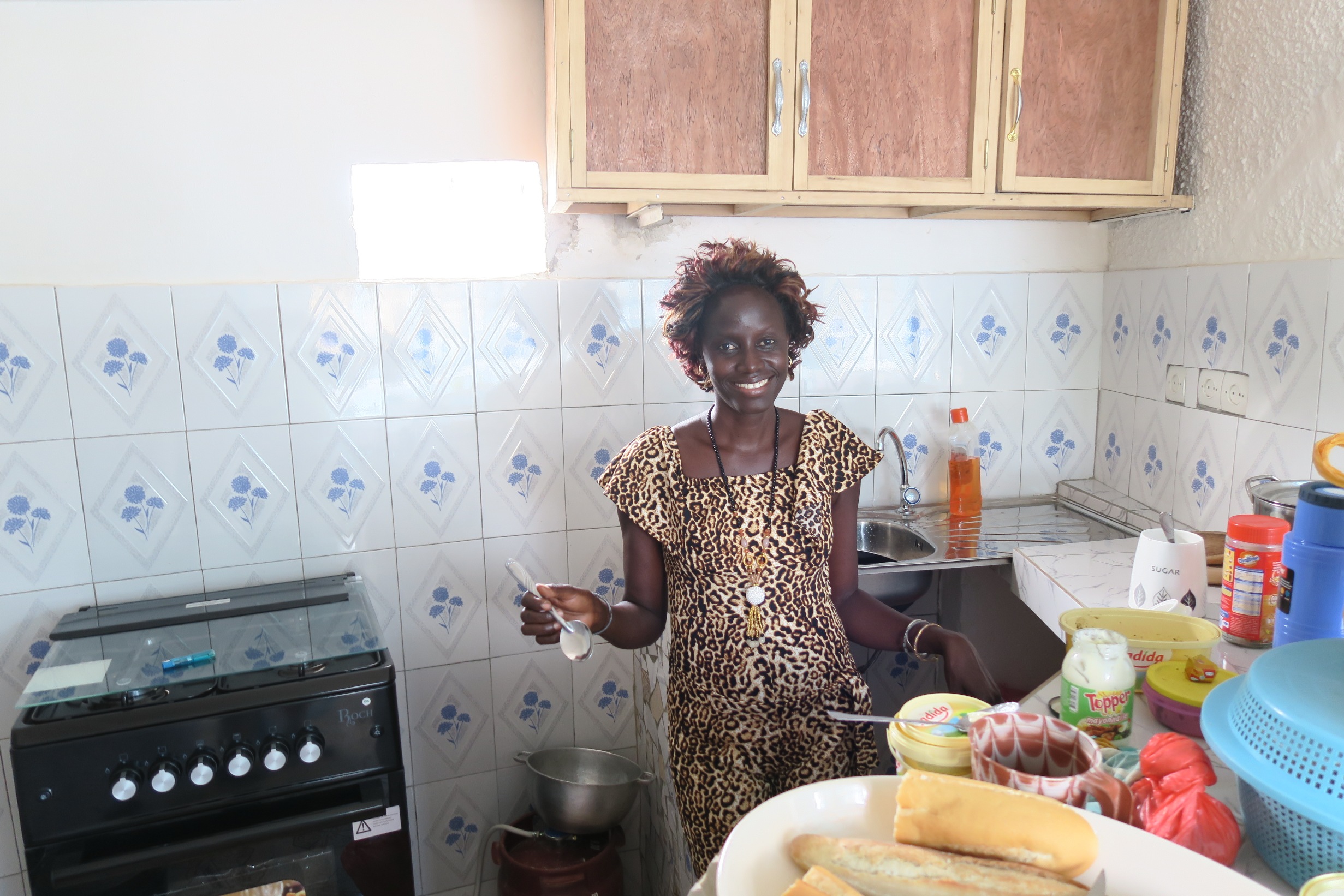 My wife is an educated cook, and she makes excellent food.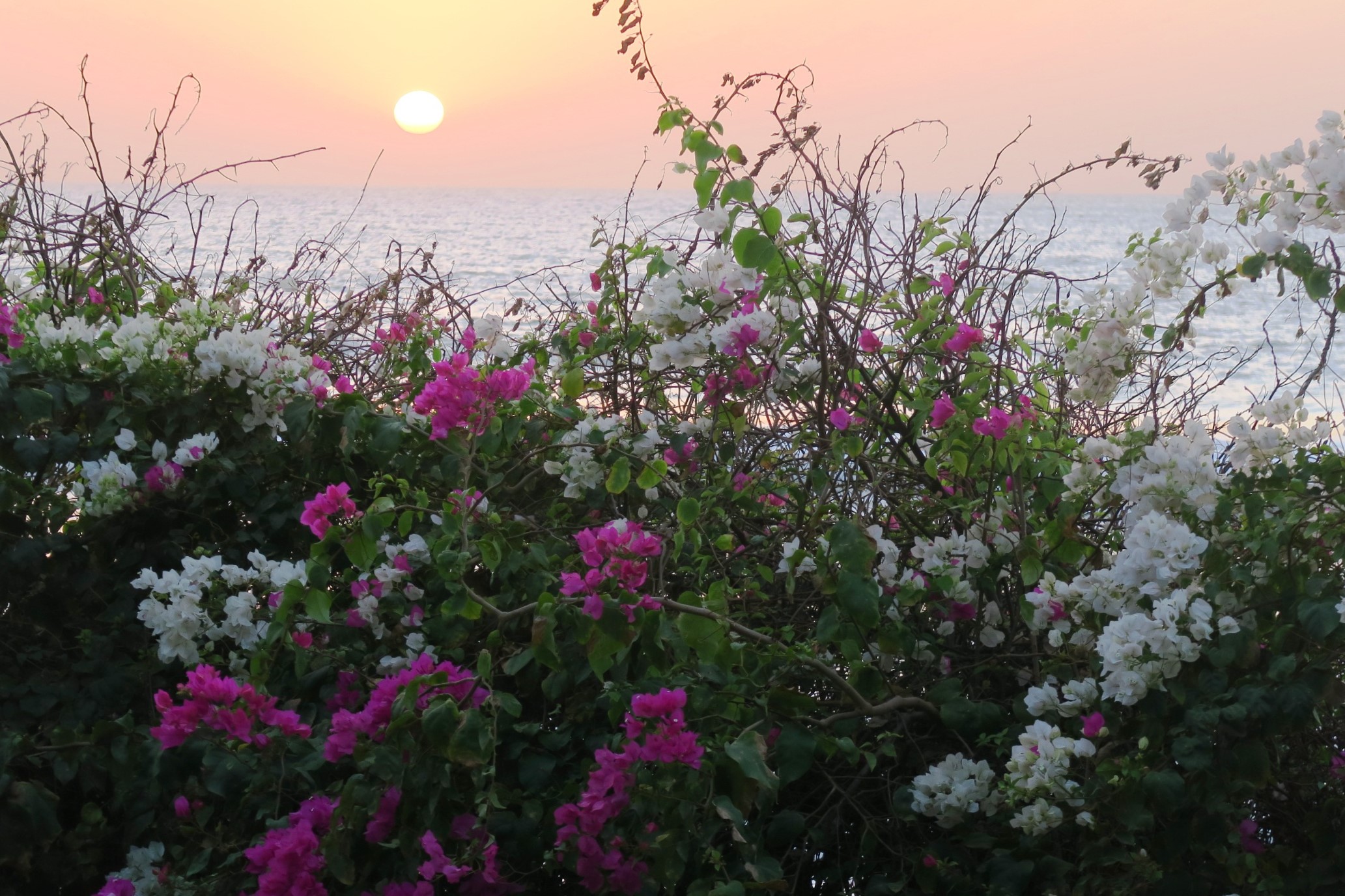 Sunset at the Atlantic Ocean near our place.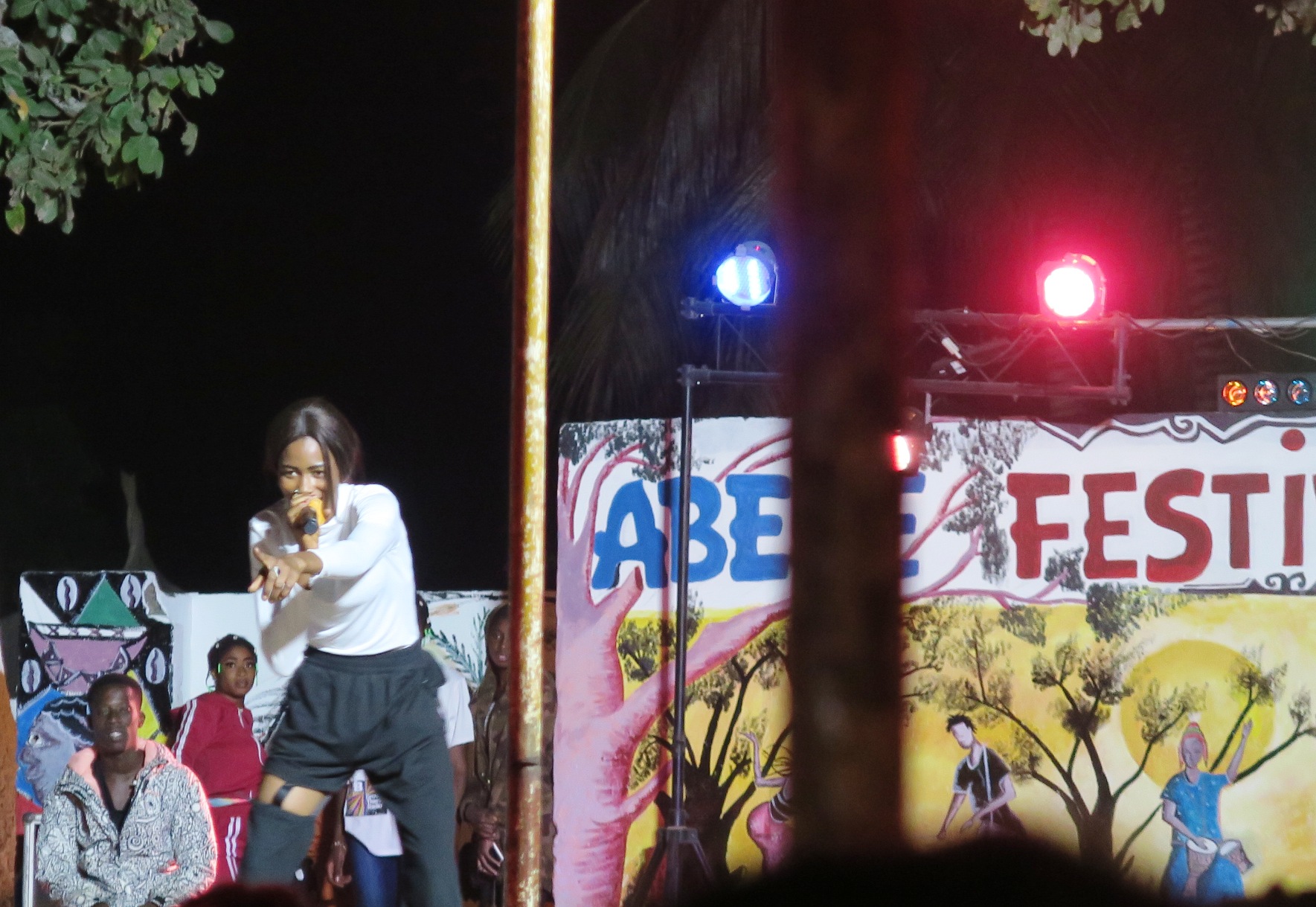 Every year at the beginning of January, a music festival takes place in Abene, with plenty of singing and dancing.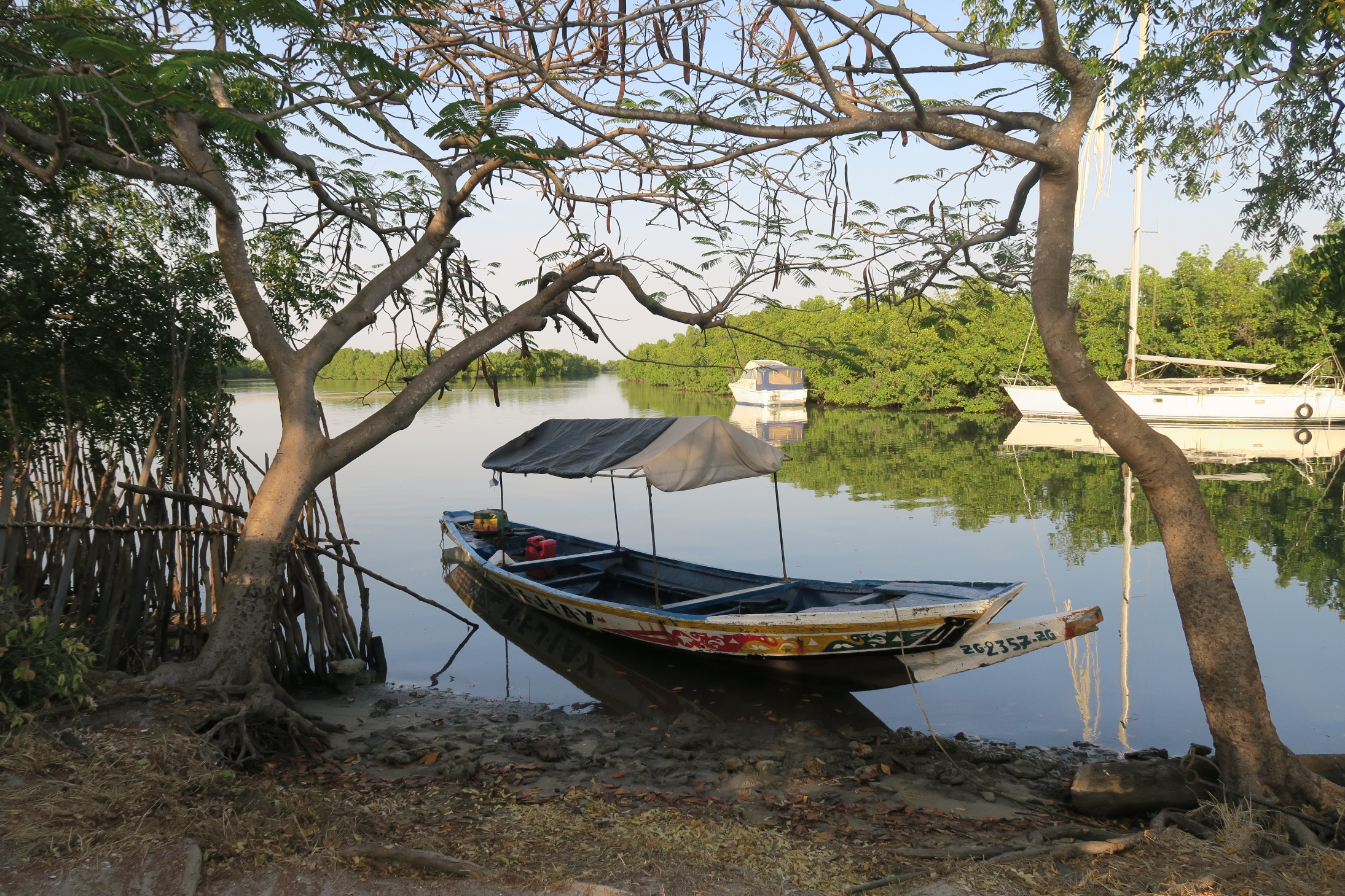 Unlike Dakar, Ziguinchor is a stress-free city, and it is close to the Casamanche River with its maze of tributaries and mangrove forests. The area has a very rich birdlife, and inside the mangrove swamps there are small fishing villages only accessible by boat.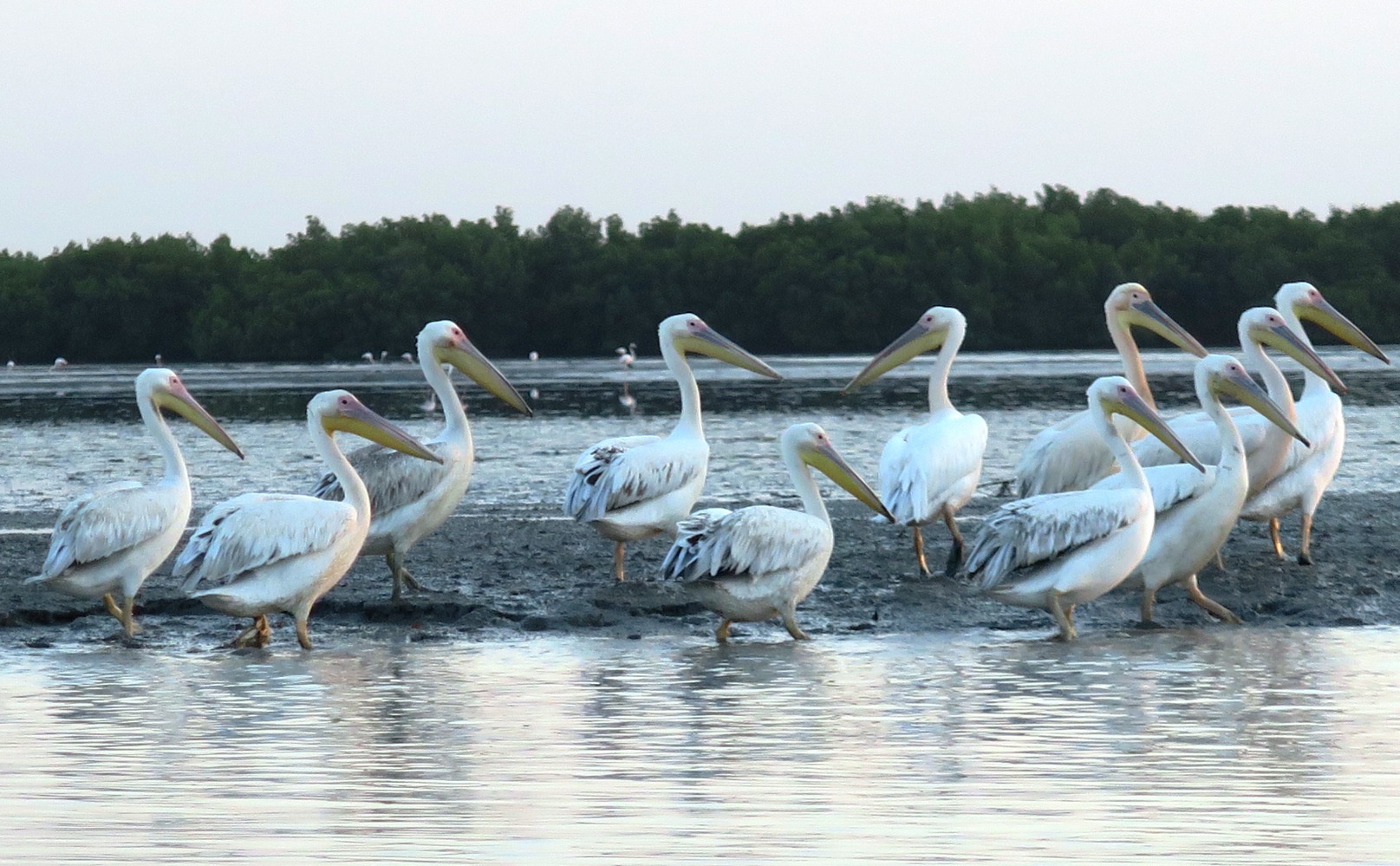 The mangrove swamps near Ziguinchor have a very rich bird life, here pelicans.


Click or push HERE to enter the main menu for the English version of my home page.